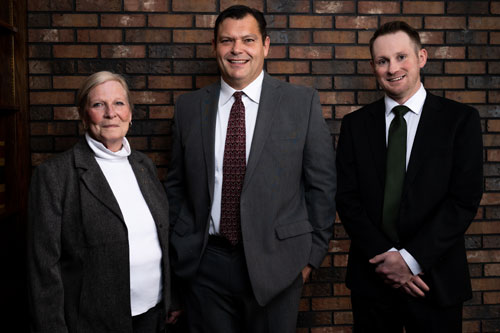 The Harvey & Carpenter law firm handles exclusively social security disability and workers' compensation cases. We serve injured and disabled people in Mankato and throughout the Southern Minnesota area. Partners Ruth M. Harvey and J. Chris Carpenter and our excellent staff has the experience, skill, and knowledge required to help clients achieve the best possible outcomes for their cases.
We have over 50 years of combined experience and a reputation for excellence throughout Southern Minnesota. You can trust that we will treat you with respect and that your case will get the attention it deserves. We always work hard to get you the benefits you are entitled to.
SCHEDULE FREE CONSULTATION
Our Mankato Benefits Lawyers Help You Get the Benefits You Need
An injury or disability can have a long-lasting impact on your life. Because we've worked on so many of these cases, we've seen first-hand the toll a workplace injury, accident, or long-term illness can have on a family. There are personal and financial consequences that can cause a crisis in your life. Mounting medical bills compound the pain of an injury and the life-changing impact on your family.
Benefits like social security disability and workers' compensation are there to help you put your life back together. But it's not always that easy. Disability or workers' compensation claims are often rejected right when families need them the most. That's where our Mankato law firm can help.
It's our job to protect your rights when it comes to your benefits. We've helped hundreds of clients get the benefits they should receive under the law. These benefits can take financial pressure off of your family. They help ensure you have the time and resources you need to better your health and well-being.
Dedicated to working as quickly as possible so you can avoid or recover from a crisis, the Harvey & Carpenter team is ready to get to work. Are you ready to get started? You can get a free consultation by filling out the form on our website or by calling us at (507) 779-7529.
Contact Our Trusted Southern Minnesota Disability Lawyers
We deal with a complicated area of the law. Social security disability and workers' compensation have their own systems of judges and hearings. When you are dealing with these areas of the law, you need lawyers who know the ropes. We do. We've been working in the system for decades. That means we've handled cases like yours before and achieved positive outcomes for our clients. We also know that your case is personal to you, so we treat you and your case with care and respect – and by giving it the time, attention, and focus that it deserves. Our job is to tell you what all your legal options are when it comes to your social security or workers' compensation claim. We can help advise you on the best course of action. Our team will ensure you are well informed about the decisions you need to make for your future.
Chris Carpenter
,
Ruth Harvey
, and
Chris Zimmerman
, and  work to develop a relationship with each client. We work to build trust before we start fighting hard on your behalf. That's because we live and work in the Mankato area, too, and our clients come from all over Southern Minnesota. So we're not just fighting for our clients, we're fighting for our neighbors. Helping our clients overcome difficult situations and get the benefits they need is what motivates us. 
Contact our Mankato law firm today
. We offer free consultations so we can review the details of your case and help you determine the next best steps. We will provide you with the hometown honesty, hard-won experience, and the well-earned reputation that you want in your legal team.